It may seem unlikely that the beauty industry—which is traditionally rooted in in-person sensory experiences, such as trying on makeup, getting a facial, or testing perfume—is moving into the metaverse.
If you're wondering how said experiences even exist in a virtual world, you certainly wouldn't be the only one. But major companies like Sephora and Procter & Gamble are getting creative and leveling up with the VR age. In fact, these two brands, as well as two others, are pioneers in the metaverse.
Beauty in the Metaverse Example
#1
- Procter & Gamble
Procter & Gamble launched BeautySPHERE earlier this year. It can be accessed through any desktop browser and allows users to interact virtually with the company's portfolio of beauty brands.
In BeautySPHERE's virtual "world," you can watch videos, live stream panel discussions, or take part in a gamified challenge. For example, you can virtually visit the Royal Botanic Gardens, Kew in England to learn about various plants and their benefits, as well as how Procter & Gamble scientists use these high-quality botanicals in their products. Or, you can learn about P&G's commitment to sustainability, transparency, safety, equality, inclusion, and more in an engaging storytelling format.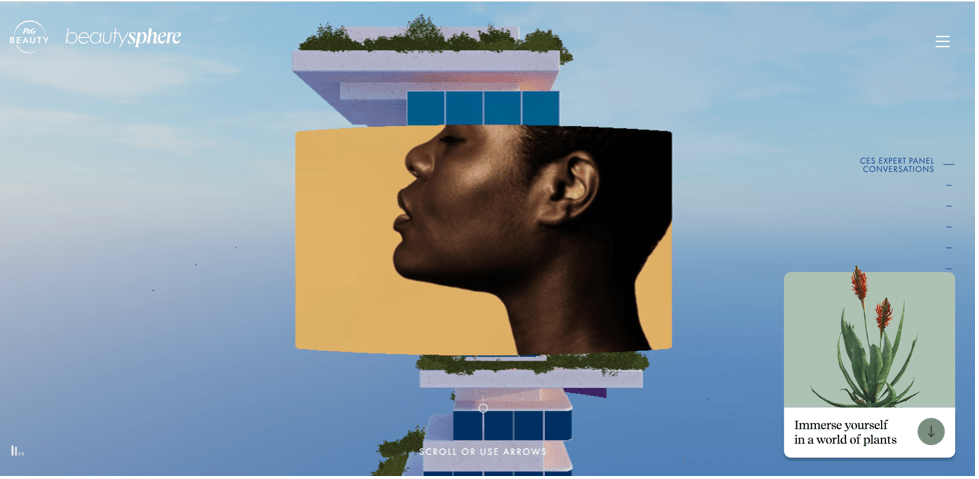 P&G Beauty Metaverse - Image Courtesy Beauty Sphere
Beauty in the Metaverse Example #2 -Sephora
The Sephora mobile app features an AR tool called Sephora Virtual Artist that uses facial recognition and allows customers to try on thousands of different types of makeup—from eyeshadow to lip colors to false lashes—all at home and using just a phone. The app also offers beauty tutorials and a color-matching foundation.
But Sephora has actually long been a pioneer in the virtual space. For starters, the retailer helped bring augmented reality (AR) to the beauty industry. During the initial phases of the pandemic when many store locations were closed and shopping shifted online, Sephora created AR filters on Instagram to help consumers "smell with their eyes" to coincide with a launch of a new perfume collection. It worked! According to an Instagram case study, Sephora experienced a 17-point lift in ad recall compared to so-called business-as-usual.
Additionally, the company has hosted SEPHORiA, a free virtual event, for several years—and it's only becoming more interactive. Last year, the event was held in a 360-degree, game-like virtual "House of Beauty" where participants could "choose their own adventure" and explore each room. Every room had a certain theme (for example, in the home theater, Sephora highlighted its new masterclass through videos and tutorials, while the sunroom allowed you to explore clean and sustainable beauty products). These envelope-pushing, immersive experiences help users feel more connected to Sephora's products and put the company in a forward-thinking and innovative light.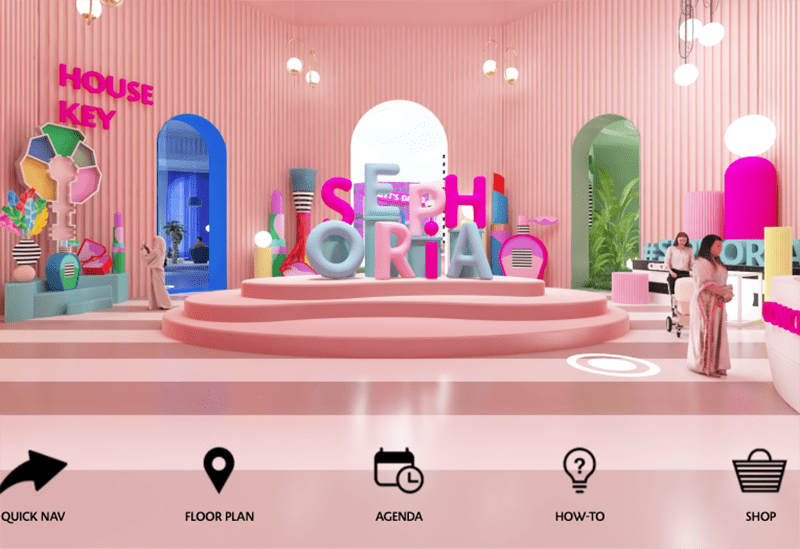 Example of Beauty in the Metaverse - Image Courtesy Sephora
Beauty in the Metaverse Example #3 - Gucci Beauty
Last year, Gucci Beauty partnered with Drest, a shopping-meets-gaming app, to launch Beauty Mode and timed the collaboration with Gucci's launch of a new eyeshadow palette. Users could now swipe the shades on virtual models before buying.
Outside of the beauty world, Gucci more recently launched two series of NFTs called "SUPERGUCCI" and "10KTF Gucci Grail." The company is also in the process of developing virtual real estate in The Sandbox, a metaverse platform centered around NFTs. Some say it's only a matter of time before Gucci is selling beauty-related NFTs where consumers can buy a virtual NFT and perhaps also receive a physical product, like a lipstick or mascara with their purchase.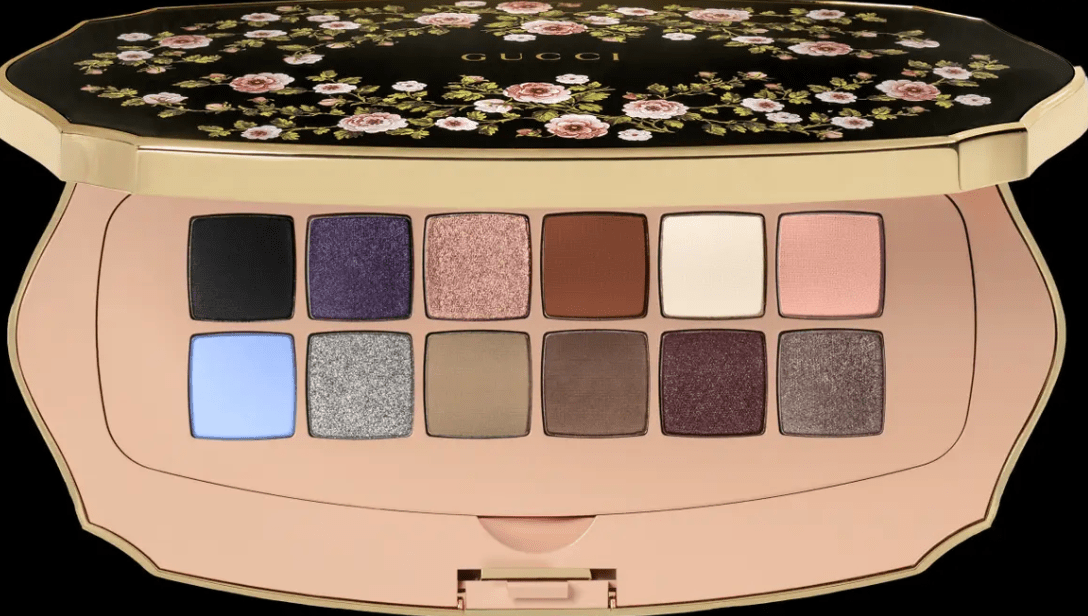 Beauty in the Metaverse - Gucci BeautyMode - Image Courtesy Fashion United
Beauty in the Metaverse Example

#4

-

Estee Lauder

Estée Lauder was the exclusive beauty brand to participate in Decentraland's Metaverse Fashion Week, the first-ever virtual fashion week to be held in the metaverse in March 2022. Users were invited to "step inside" Estée Lauder's iconic brown bottle of Advanced Night Repair serum, where they unlocked an exclusive badge and an NFT wearable that gave their avatar a glowing, radiant aura inspired by the serum.

Estée Lauder recently launched Maison Too Faced, an interactive virtual environment and e-commerce platform in the metaverse created by BrandLab360. Maison Too Faced is complete with virtual rooms and gardens that are filled with products, brand mascots, videos, and even games where you can score discount codes

Overall, as brands—and particularly beauty brands—enter into the metaverse, in-person experiences like trying on makeup will become even easier and more common at home and in VR. What's next? The next wave of beauty in the metaverse is said to be scent. And this is where Inhale by OVR can not only help your brand break into the space but also lead the way.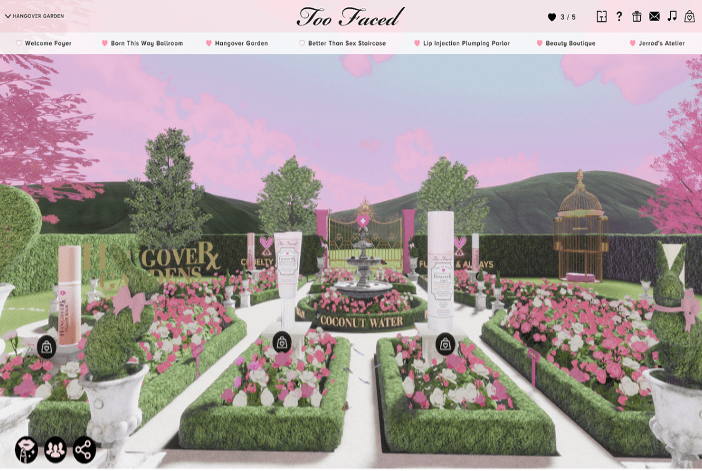 Beauty in the Metaverse Example - Estee Lauder - Image Courtesy Tulfa