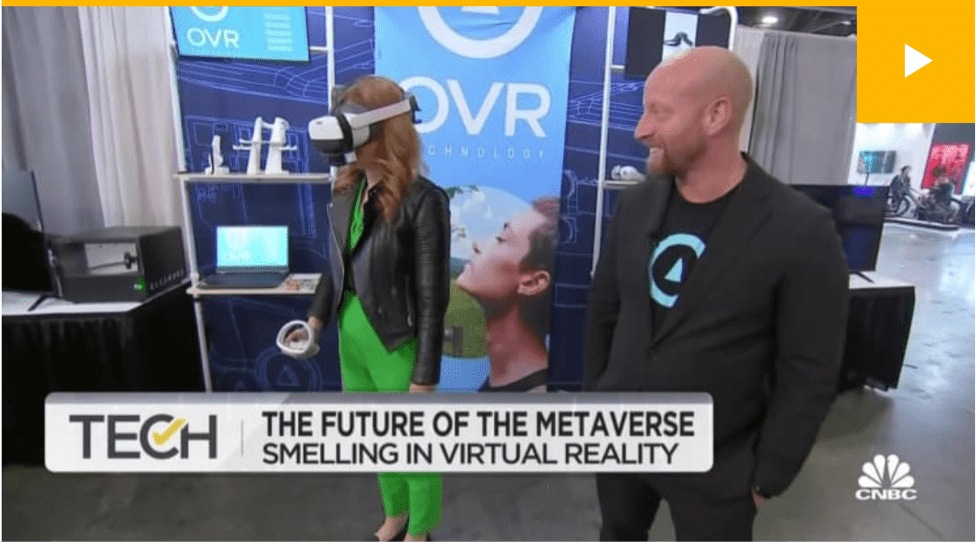 For the first time, CES had an area dedicated to the Metaverse, and multiple new technologies are bringing digital experiences beyond sight and sound to the table.
OVR was one of these technologies and with the announcement of our next product, OVR is expanding beyond VR into a broader space we're defining as Digital Scent Technologies.
The ION 3 revealed at the show supports immersive experiences across platforms by allowing all audio/visual media to be scent enabled and therefore deeply engage the limbic system to create more emotional connections and add immersion. This new iteration of OVR Scent Technology connects to content on Mobile and Desktop via the OVR Scent Studio app.
This app allows users to engage with a feed of existing scent-enabled content and then empowers them to create new multi-sensory experiences of their own. The ION 3 remains compatible with VR and will bring a new toolset to help people connect, heal, and play. CES is about showing the future of technology and, like many products featured there, the ION 3 is still in its Beta getting ready to release later this year.
OVR wasn't alone in bringing additional senses to the digital world. As CNBC reported, companies are creating more engaging experiences incorporating various Haptic Feedback (forms of touch) models to VR as well as other digital experiences such as gaming and work-related functions such as architectural design and even surgery.
Also, well-represented were Blended or Augmented reality technologies, where digital information is added to your existing sensory input, such as your line of sight, to bring context to what you're experiencing. The Metaverse is a growing space and many companies, including OVR, are using Enterprise sales to enter the market and provide immediate use in areas like healthcare, training, or manufacturing. Although the overall market is still developing, it is amazing to see the advancements and opportunities in technology that will create more immersive and engaging digital experiences. These companies range from startups with brilliant ideas to established Fortune 500s looking to the future. As Fortune reports, enterprise companies such as Walmart, Nike, HTC, and Microsoft are joining Apple in entering the Metaverse space. These companies have proven ability to commercialize consumer products and some of these efforts are likely to accelerate VR, AR, and general Metaverse adoption.
Lots of companies are joining OVR's stance that improving personal health represents a significant opportunity for extended digital technologies, as The NY Post observed. The Smithsonian Magazine also noted that many of their Eight Cool New Technologies From This Year's Consumer Electronics Show had a health and safety bent, including an accident-preventing car door, a low-cost hearing aid, and of course one of the many applications for OVR digital scent technologies: complementing calming apps with relaxing scents, which can greatly enhance the effectiveness of these experiences.
If you weren't able to attend CES 2023, USA Today helpfully organized a list of the coolest tech to buy.
Of course, if you are eager to experience the next generation of immersive, scent-enabled media for yourself, feel free to
apply for early access to the ION 3 here
!
As OVR Founder and CEO, Aaron Wisniewski observes, "We are entering an era in which extended reality will drive commerce, entertainment, education, social connection, and wellbeing, "The quality of these experiences will be measured by how immersive and emotionally engaging they are. Scent imbues them with unmatched power."
We are thrilled to have been included in so many articles and listed as an item of interest for so many people.
Catch up on your OVR reading with a few of the CES Articles at these links:
WSJ - CES 2023
USA Today - The Best Tech to Buy at CES 2023
Perfumer & Flavorist - OVR Debuts First Spatial Scent Technology for the Metaverse
Washington Post article & video - Best Tech at CES 2023
Proactive Investors - Touch and smell take the spotlight for Metaverse experiences at CES
AP - CES 2023: Smelling, Touching take Center Stage in Metaverse
Fortune (AP article): Metaverse Ventures Bring Smell to Virtual Reality
CNBC Video - Julia Boorstin at CES Reports on Metaverse Future - Aired Friday Jan 6th
Tech Funding News CES 2023: The best of European startups seen at world's biggest tech show
Auganix-OVR Technology announces ION 3 wearable scent technology for XR experiences
WWD - What to Watch in Tech for Retail in 2023