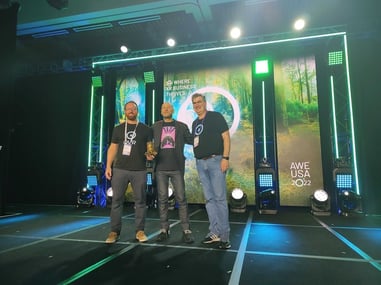 Santa Clara, California – OVR Technology (ovrtechnology.com), a leader in multisensory VR, has won Best in Show - Virtual Reality at the 2022 AWE USA Auggie Awards for its first-of-its-kind spatial scent technology for virtual reality. The annual awards are the most recognized AR & VR industry awards in the world. Now in its 13th year, they continue to showcase the best of the best in augmented, virtual, and mixed reality.
The Best in Show - Virtual Reality award is selected through popular vote at the show. All presenting VR companies at AWE 2022 were eligible to be nominated for the award. OVR Technology was the only company present that uses scent technology to make XR, AR, and VR experiences more immersive and effective.
"It is truly one of the most unique immersive experiences we have tried," said Sam Sprigg, managing editor at Auganix.org, and an attendee at the 2022 AWE event. "You are able to interact with certain virtual objects that trigger the release of a scent when approached or interacted with. Scents included campfire smoke, marshmallow, lavender, rose, and wet soil – all of which were truly realistic and really added to the sensory experience."
The company works with partners and customers in creating immersive brand experiences (including flavor and fragrance, CPG, and beauty companies) and supporting programs in health and wellbeing and professional training for outcomes-oriented AR/VR/XR.
"OVR is the first company with the right technology and the right approach to bring something to the marketplace that has never existed before and that is effective," said Rachel Herz, PhD, neuroscientist and global expert on olfaction, and a member of OVR's board of advisors. "In every aspect of life that VR could potentially help, OVR can play a role. The sense of smell makes everything so much richer. The sky's the limit."
OVR Technology's Architecture of Scent® Software, Scentware, and Hardware Platform is a mixture of art, science, and technology that completely reimagines sense of smell for the virtual world in order to make all digital experiences more emotional, immersive, and effective. The ION, developed by OVR Technology, is the most accurate and precise on-mask scent technology currently available. The technology is such that it can intelligently recognize your locations and interactions to precisely release the right scents at the right time. Learn more: https://ovrtechnology.com/technology/
In June 2022, OVR Technology released its INHALE 3.0 Wellness Platform, which provides the benefits of mindfulness, breathwork, digital therapeutics, and meditation with multi-sensory virtual reality nature experiences. The platform places users in an immersive, three-dimensional environment and simulates a relaxing and tranquil setting, and guides them through a proven mindfulness meditation. As users interact with the virtual environment, corresponding scents are precisely released, mimicking scent as it arises and dissipates in the real world. Learn more: https://ovrtechnology.com/inhale/
About OVR Technology
OVR Technology combines our most primal sense, scent, with today's most advanced technology to unlock the potential of virtual reality. Better virtual reality, better reality. Learn more at https://ovrtechnology.com/.
Note: The INHALE platform is not intended as a treatment for specific mental health conditions. It can be used as a tool to support the management of stress or to help patients with mental health concerns live better with their chronic conditions. It is not a substitute for other therapeutic interventions.
Follow OVR Technology on Social Media
LinkedIn: https://www.linkedin.com/company/ovr-technology/
Twitter: https://twitter.com/OvrTechnology
Facebook: https://www.facebook.com/ovrtechnology/
Instagram: https://www.instagram.com/ovrtechnology/