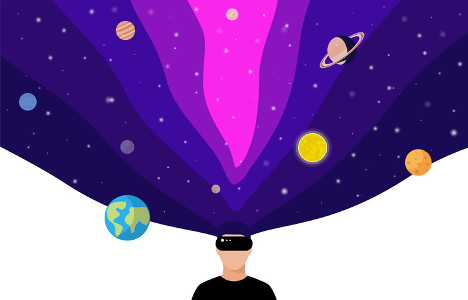 We've shared on our blog before about how major beauty companies—such as Sephora, Estée Lauder, and others—are leveling up and joining the metaverse. But it's also grown beyond just beauty businesses. Other big-name brands are building a VR presence in an effort to give users, customers, and explorers a way to interact with their brand and products in interesting ways. The metaverse allows consumers to make something truly unique that others want to interact with.
Here are 5 brands that are very successfully building a VR presence. We consider them metaverse pioneers.
Brands In The Metaverse Example #1: Procter & Gamble
This major and international brand took the path less followed and instead of making its metaverse debut within another platform, which most other brands have done, Procter & Gamble instead launched their own. Called the P&G LifeLab, the push for a virtual experience began in 2020 as a result of the global pandemic and was officially launched at CES 2021 and then again at CES 2022. The P&G LifeLab is designed to educate consumers about their brand and products, and give them a place to interact (virtually, of course) with P&G's most iconic products.
Brands In The Metaverse Example #2: Ralph Lauren
At the start of November 2022, Ralph Lauren launched their first-ever digital-first fashion collection, debuting it in Fortnite. They also hosted a live event on Twitch to spread the word about the new collection and partnership. While the fashion icon plans to roll out an IRL fashion collection to match what they've released on Fortnite, it sounds like this is just the beginning of Ralph Lauren's virtual world plans. For example, look for a Ralph Lauren-hosted Fortnite tournament soon.
Brands In The Metaverse Example #3: Nike
Nike joined the metaverse way back in 2021 with its Roblox store called Nikeland—that's apparently modeled after Nike's headquarters. Nike also has a NFT sneaker collection, which they created in conjunction with RTFKT Studios (pronounced "artifact"). Their foray into the metaverse has been quite successful: some say this iconic athletic apparel brand is one of the most successful in the metaverse. In the Spring of 2022, Nike Digital, which includes all of the brand's metaverse presences, pulled in a quarter of the company's revenue.
Nike is also bringing digital enhancements to their IRL stores: in their New York flagship store, for example, you can go for a run on a treadmill alongside a jumbotron to simulate running in the great outdoors. The store is also complete with cameras that track your movements and then upload it to the Nike+ app so you can go back and revisit your experience.
Brands In The Metaverse Example #4: Gucci
Gucci Beauty was on our list of beauty brands in the metaverse. But that's just one part of their metaverse presence! The luxury brand has made an appearance in almost every virtual world.
Just as Nike partnered with Roblox, so has Gucci. In fact, Gucci had a short stint on Roblox before Nike with their award-winning Gucci Gardens. Today, their more permanent fixture in Roblox is called Gucci Town. It's a "dynamic destination" designed for users to connect with like-minded individuals and express their individuality through clothing.
Gucci was also one of the first to create NFTs, they built a virtual world in Discord, and most recently they were the first major fashion brand to open their own virtual world in The Sandbox (called Gucci Vault Land).
Brands In The Metaverse Example #5: Walmart
Walmart is fairly new to the metaverse scene launching two virtual worlds in—you guessed it—Roblox, as recently as late September 2022. One world, Walmart Land, hosted a virtual concert in October, and also features immersive experiences with products from their beauty and fashion lines (think: obstacle courses of oversized items). The other world, Universe of Play, has games that feature their top toys like Razor scooters, Paw Patrol, and more.
Brands In The Metaverse Example #6: Alibaba
The group behind Tmall Luxury Pavilion really kicked it up a notch this year taking China further into the virtual world of luxury fashion with an AR fashion show and an XR (extended reality) exhibition on the future of retail. These additions build on Tmall Luxury Pavilion's previous offerings, which include 3D shopping, digital art galleries, and avatars. The VR and AR options give consumers a more immersive experience to understand and interact with products from over 200 luxury brands.